The 2021 Subaru Love Promise Customer and Community Commitment Award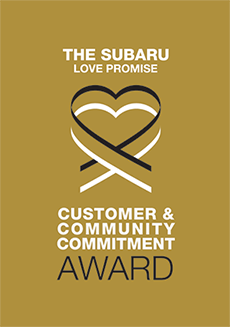 We've been nationally recognized for our dedication to our customers, our community, and the Subaru Love Promise.
We're honored to receive the 2021 Subaru Love Promise Customer and Community Commitment Award. This award nationally recognizes elite Subaru retailers who provide an exceptional customer experience at every interaction with Subaru. These retailers have also demonstrated an outstanding commitment to supporting passions and causes in their local communities in important areas such as the environment, community, health, education, and pets.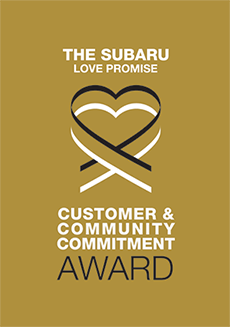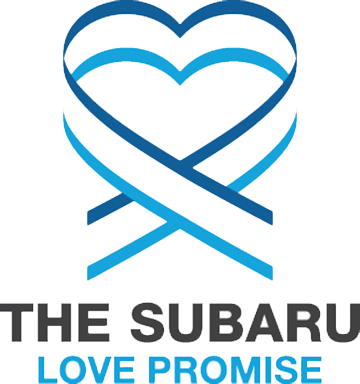 What is the Subaru Love Promise?
Subaru and our retailers believe in making the world a better place and the Subaru Love Promise is our vision of respecting all people. This is our commitment to show love and respect to our customers and to work to make a positive impact in the world.
How is Riverhead Bay Subaru dedicated locally to the Love Promise?
Our Love Promise can be seen in various partnerships with local charities and non-profits. We're grateful for the opportunity, not only to be a part of our community, but to serve it as well.
Southampton Animal Shelter
Riverhead Chamber of Commerce
Peconic Bay Medical Sponsor, Panoramic Living
Love Promise Stories from Riverhead Bay Subaru
Subaru and Riverhead Bay Subaru believe in making a positive impact on the communities in which we live and work. We uphold that belief through our Love Promise Community Commitment. Every month, we select inspiring stories from customers and partners from around our area who strive to support our collective commitment and feature them here
Our 1st Subaru - Helen B
We have heard so many great things about the Subaru brand, coming from a loyal family of Toyota and Lexus owners. This was our first shot with the Subaru. After a quick test drive and review of the interior tec and features, we decided the 2021 Touring Legacy was the car for us. Our salesman Jimmy was so great to work with. He took his time showing us all the Legacy had to offer and how to use it all! What a great buying experience at Riverhead Bay Motors! we will be back!
---
Second Subaru from James - A H
This was my second Forester from James. The price was very fair and my salesman James Delatola was excellent. He is knowledgeable and always ready to answer questions about using all the features on the vehicle -- even long after the sale. He is low key and straight-forward -- no tricks. Best new car sales experience that I have ever had.
---
Nothing like a new car - George M
We needed a new car, so we decided on a Subaru! James Delatola and the rest of the team were extremely helpful. No pushy sales gimmicks needed for this kind of car. Jimmy and Riverhead Bay Subaru really treated us like family and we couldn't be happier with the choice we made! Now we have the perfect daily driver with the option to go off road when we feel like an adventure!
---
Health And Wellness - Suffolk County U
In their continuous effort to provide community outreach Riverhead Bay Subaru has partnered with The Association for Mental Health and Wellness along with the Suffolk County United Veterans this winter. Suffolk County is home to more Veterans than any of the state's 62 counties. Suffolk County United Veterans has taken on the special responsibility of helping to ensure that those who have served our country receive appropriate support when it comes to securing decent affordable housing, training, employment opportunities, mental health assistance, and other necessary services. Founded in 1989 by a Vietnam War veteran, Suffolk County United Veterans (SCUV) initially focused on meeting the housing needs of the county's homeless Veterans. As the years passed, SCUV's mission would expand to include a broad range of support services, all dedicated to maintaining the dignity and self-sufficiency of returning Veterans. Timothy Mccutchan can be seen with Director of SCUV services, Wilkens Young at their facility at 939 Johnson Avenue in Ronkonkoma to supply our local veterans with new blankets to use this winter. Riverhead Bay Subaru is proud to be able to support our local veterans this winter season. If you would like to make a donation or to find more information on SCUV facilities and services, please use the following link: http://mhaw.org/programs/scuv/support-us-4/
---
The Best on Long Island - Heather G
Where do I begin!!!!! Everyone at Riverhead Bay Subaru is amazing. From the sales team, the finance department and the service department. My situation was a little different then most. I bought a 2018 WRX new from Donaldsons Subaru last April. I thought they were great until I started having issues with the car every month starting in September up until February. I reached out to Subaru headquarters and they declared it fell under the lemon law. They gave me different options and I picked to be put in a new model. They contacted Donaldsons considering that is where I originally purchased the vehicle. They did not want to help me and was making the process way harder then needed to be. I started to get discouraged. I asked if we could try a different dealership and I picked Riverhead Bay. I AM SO HAPPY I did because it was the best experience ever. From the first call and email they were great. Jimmy Delatola and Tim McCutchan went above and beyond. They kept me informed on everything that was happening. When I met them for the first time, I felt very comfortable and knew I made the right choice. They weren't typical salesman. You can tell they really care about helping people and it truly showed. I went to look at a 2019 rally blue wrx which is what I currently had. I fell in love with Jimmy's limited edition ceramic white wrx. I asked if they could find me one. They said they couldn't promise because they were hard to get but would try. About two days later they emailed me that they were able to locate one for me and was having it brought to the dealership. Once again they went above and beyond for me. Then I received a call from the finance department from Mike Clare to go over finances. He was very clear with options of warranties and answered any questions I had. When I picked up the car a few weeks ago it was not your normal pick up because we are dealing with the Covid -19 virus. I was a little nervous with this but once I got there I saw the precautions they were taking. Very safe environment! I cannot say enough about this dealership. If you're looking to buy a Subaru I wouldn't go anywhere but here. When you go ask for Jimmy or Tim they are AWSOME!!!!!
---
My Subaru saved my Life - Anthony T
In the early morning of November 9th, 2020 I was hit by a drunk driver who ran a red light. I can't begin to explain how grateful I am to be able to tell this story. I believe that my Subaru saved my life. After being pulled out from the vehicle and frantically examining myself to only feel pain in my right thumb. I had no scratches, cuts, breaks, or any other sign of injuries. Starlink alerted the authorities based on the collision alone. The police officers and first responders did not believe from looking at the car that I did not have any serious injuries, so I was forced to take a ride in the Ambulance to the hospital. The seriousness of the crash didn't really set in until the next day when I had to collect my personal belongings from the vehicle at the tow yard. I cannot believe I was not injured after seeing the car in the daytime and how much front end damage had occurred. Here begins the process of moving forward after a crash. I was expecting to walk into a nightmare scenario on trying to replace my car which I knew was going to be totaled since every airbag was deployed and I knew would never run the same if fixed. I reached out to my sales guy from Riverhead Bay Subaru James Delatola and gave him a heads up on the situation and that I was going to be in the market for another new vehicle. He assured me he would take care of me and also warned that due to Covid there wasn't much of an inventory to choose from. So after dealing with insurance they told me I would need to start the car buying process which I met with James on November 13th 2020. At that time they mentioned that the only 21 Legacy they had coming in would be in December. I expressed that my insurance company would not allow me to have a rental for that long. He went and talked with his manager and they came up with the decision to obtain a vehicle from another dealer since I needed something right away.. Mind you I was doing this process just over a year ago with the car that was damaged in the crash. Car comes in I'm at Riverhead Bay Subaru on the 23rd of November and I am driving away in a new vehicle. Riverhead Bay and my salesman was so easy to work with and get things taken care of. I cannot thank Subaru enough for the job and effort they put into driver safety. This car kept me alive to celebrate my 1 year anniversary with my wife the next day after the accident. I was already on the Subaru train prior to my accident. But I can assure you that I will never drive anything else other than a Subaru and I also believe a changed the minds of a few to get behind the wheel of one as well. I feel safe and trust that if I were in an accident again, I would be able to walk away unharmed.
---
the Staff at Riverhead Bay Motors - Jessica F
I am writing to you to express my appreciation for the excellent customer service which my husband and I have received from your company during our purchase of our new vehicle. The staff was warm and accommodating, and they were exceedingly helpful to us. I would like to specifically acknowledge Terrence O'Toole for his excellent service, reassurance and overall care. Terrence's professionalism and enthusiasm eased our minds and exceeded our expectations. He clearly went above and beyond for us and he even reached out to us on his day off to make sure we had all the updated information we needed about our new vehicle. I am sure that he is valuable member of your team. Additionally, James Delatola was also tremendously helpful and made sure that our overall experience during pick up was positive and that we were completely comfortable leaving knowing exactly how to work every feature. He thoroughly explained every detail to us. This type of professionalism and commitment to the highest level of customer satisfaction has to be acknowledged. Since we had such a pleasant experience with your staff it would be my pleasure to continue doing business with your company, as well as, referring friends and family to Subaru Riverhead Bay Motors .
---
Bringing Warmth to Cancer Patients - Carol P
Riverhead Bay Subaru joined the Leukemia and Lymphoma Society to deliver blankets, craft kits, and messages of hope from their customers to cancer patients being treated at Stony Brook Hospital. Nurses came by to accept the donations, bursting with excitement to share them with their patients. The representative's from Riverhead Bay Subaru shared that they were honored to support the patients being treated there.
---
Subaru Warms Up Cancer Patients with Blankets - Terri Q
July 8, 2019, Stony Brook, NY. Thanks to the Riverhead Bay Motors Subaru and the Long Island Chapter of The Leukemia & Lymphoma Society (LLS), patients undergoing chemotherapy, radiation or surgery, at the Stony Brook Cancer Center and in SBUH Bone Marrow Transplant Unit, are snuggling up with a warm blanket to help provide physical and emotional comfort. As patients often feel chilled after receiving treatment, having a brand new comfy blanket to cheer them is very much welcomed. More than 200 blankets and craft kits were made possible through the "Subaru Love Promise" program, which pledges to make a positive impact in the world and in the local communities. "The blankets are not only a source of warmth for our patients, but it's like being wrapped in a caring and friendly hug," said Taylor Andrews, Nurse Manager, Bone Marrow Transplant Unit. On behalf of the cancer and bone marrow transplant patients at the Stony Brook Cancer Center and SBUH BMT Unit, we thank you for the generous donation and support!
---
Thank You Riverhead Subaru from LLS! - Jaime L
Riverhead Bay Subaru, in partnership with The Leukemia & Lymphoma Society, returned for the third year in a row to deliver blankets, craft kits, tote bags and messages of hope to Stony Brook Cancer Center patients. Two years ago while making the first delivery, General Manager of Riverhead Bay Subaru, Anthony Mauro shared that his mother was recently diagnosed with lymphoma. He was smiling today as he shared that she is doing well. She has been travelling and looking forward to retirement and being able to spend more time enjoying her grandkids. The staff at Stony Brook is grateful for the donation again, they stated how the patients truly appreciate the thoughtfulness of a warm blanket while they are receiving their treatments.
---
Blankets Provides Warmth for Donor and Patients - Terri Q
John Gallo is one of many patients who received a donation of an inviting blanket to help comfort patients undergoing chemotherapy, radiation or surgery. Patients often feel chilled after the treatment and having a brand new comfy blanket to cheer them is very much welcomed. More than 100 blankets were donated by the Riverhead Bay Motors Subaru and the Long Island Chapter of The Leukemia & Lymphoma Society (LLS), through the "Subaru Love Promise" partnership, which pledges to make a positive impact in the world and in our neighborhoods."The blankets are not only a source of warmth for our patients but on a much deeper level they let patients know that we are thinking about them and supporting them through their care," said Linda Bily, Director, Patient Advocacy and Community Outreach. On behalf of the cancer patients at the Stony Brook Cancer Center, we thank you for the generous donation and support!
---
Riverhead Bay Subaru Sponsors Local Blood Drive - Terrence O
In partnership with WRIV radio 1030AM, and New York Blood Center, Riverhead Bay Subaru is proud to sponsor blood drives every week starting mid November through the end of December. As an ongoing effort to assist the wounded warrior project and vets nationally, the New York Blood Center looks to assist everyone in need of blood. From organ transplants to heart surgeries, today's advanced medical care relies on blood transfusions. When one person donates a unit of blood, it can be separated into individual components to save multiple lives. Blood donors help meet the daily transfusion needs of cancer and surgery patients, accident and burn victims, newborns and mothers delivering babies, AIDS and sickle cell anemia patients, so donate today!!! Click the link to see when you can donate over the coming weeks and help save some lives! You can even type in your zip code to see if there are any blood drives happening in your area. https://drm.nybloodcenter.org/PublicScheduler/Schedule/SiteSearch.aspx?SearchType=Distance&PostalCode=11901
---
Inaugural "Paws On Parade" and "Ties & Tails" - Terrence O
"Paws On Parade" And "Ties & Tails" Took Place Over Columbus Day Weekend. Southampton Historical Museum along with Southampton Animal Shelter Foundation and Riverhead Bay Subaru teamed up over Columbus Day weekend for a duo of new Hamptons happenings. Participants started Saturday off with a pleasant stroll to the Bathing Corporation beach in Southampton during Paws on Parade. The pet-friendly walk departed from the Rogers Mansion for a nice stroll to the beach. After participants make it back to the Southampton Historical Museum grounds, they enjoyed contests, an agility course, auctions, pictures with Bay Street's Frankenstein Follies Halloween cast, face painting, a light breakfast sponsored by Town & Country Real Estate, and much more. Proceeds from the event will support the animals that reside at Southampton Animal Shelter until they find their forever homes and restoration programs at the Southampton Historical Museum. Later on, guests made their way to the Rogers Mansion for Ties & Tails, a Jazz Era themed cocktail party. From 5 to 7 p.m. Party goers enjoyed an open bar and hors d'oeuvres as they explored the 20-room mansion that was developed during Southampton's Gilded Age. Proceeds will support Southampton Animal Shelter, Southampton Village Fire Department, Southampton Village Ambulatory Corps and SYS's Stages Children Theatre Group.
---
Annual 5k Run for Sayvillle Community Ambulance - Terrence O
This Year Riverhead Bay Subaru Helped sponsor the annual 5k Walk/Run event for the Sayville Community Ambulance. The race included 320 runners and raised over $10,000 in contributions.
---
Proud Sponsor and Partner with LLS - George R
We had the privilege and the honor of presenting cozy blankets and words of hope and encouragement to the cancer patients at Stony Brook University's Cancer Center. This is our 2nd year where we, Riverhead Bay Motors, partnered with Subaru of America to present these blankets and help raise money towards our local charity, The Long Island chapter of Leukemia and Lymphona Society (LLS).
---
The Mighty North Fork 5k - George R
Our own Subaru sales manager George "The Greek Wonder" Reveliotis ran the Mighty North Fork Vineyard 5k on June 4th 2017 and placed 4th within his age bracket, sources say. He joined up with team TNT (Team In Training) which is the world's most successful endurance sports training program and benefits The Leukemia & Lymphoma Society (LLS), the worlds largest voluntary health organization dedicated to funding blood cancer research, education and patient services. It was a crisp 70 degrees that day. the wind was low an the time was right. While he struggled a bit around the 3.5k mark, he dug deep, powered through and found his stride ending the race with an 8:52 min/m pace. his overall time was 27:29.9 nd both he and the rest of us at Riverhead Bay are proud at the contribution h made to LLS.
---
Thank You from Stony Brook Cancer Center - Terri Q
The Stony Brook Cancer Center and SBUH Bone Marrow Transplant Unit (19S) would like express our deep appreciation to Riverhead Bay Subaru and the Long Island Chapter of The Leukemia & Lymphoma Society (LLS) for your tremendous support via the donation of the art kits and warm and cozy blankets with the personal messages of hope and encouragement for our adult and pediatric cancer patients. Your donation has already made a big difference in their lives! Our patients often feel chilled after the treatment or surgery and having a brand new inviting blanket to comfort them is very much welcomed.
---
Wildlife Habitat - M H
A local beekeeper visited my classroom to speak with my eighth grade students about the importance of pollinators. We were all struck by the importance of honey-bees in our food chain. When The National Wildlife Foundation offered my students a garden sponsored by Subaru, we were especially eager to play a role in sustainability. We were thrilled to receive 18 locally friendly plants that contribute food to pollinators, and funding to create a habitat for them. It's been very exciting working on our garden, and yesterday we saw the first monarch butterfly land there! Thank you, Subaru, for helping us to do our part to sustain the planet!
---
I Love My Subaru - Melena B
Several years ago I traded in my Subaru for a vehicle I thought would give me more bang for the buck. It didn't take long to realize I made a mistake. Whenever anyone asked if I liked my vehicle, I'd reply "Yes but it's not a Subaru." Today I traded in my vehicle for a 2017 Subaru Forester and I couldn't be happier. Working with Linda Manning was like meeting up with a long lost friend. She was attentive to my request and found me the perfect Subaru. Linda additionally took time to provide me detailed instructions on all the features in the Forester & answer my questions. I couldn't have asked for a friendlier sales consultant. My Forester fits me like a comfy pair of shoes. Not only do I love how the vehicle handles on the road, it also looks great inside and out. I drove out of Riverhead Bay Subaru with a huge smile on my face and no regrets. When anyone ask if I like my vehicle I will eagerly reply "I LOVE MY SUBARU!"
---
Giving Back To A Place That Hits Home - Jamie G
Imagine a child lying in the hospital diagnosed with cancer. They are likely scared, angry & confused – a dark time for any cancer patient, let alone a child. The hospital rooms look all the same, white sheets, white walls, and having something special like a warm blanket & a care card with a message of hope livens up their room & brings comfort. The Long Island Chapter of The Leukemia & Lymphoma Society (LLS) partnered with Riverhead Bay Subaru to deliver blankets & care cards to pediatric patients undergoing cancer treatments at Stony Brook Children's Hospital. For Riverhead Bay Subaru's GM Anthony Mauro & GSM George Reveliotis it was also personal. George's mom lost her battle to breast cancer five years ago. Anthony's mother, Susan, 62, was diagnosed with lymphoma in the spring of 2016 & was treated at Stony Brook. For three months, Susan endured six rounds of chemotherapy and is currently preparing for a transplant in September. "Going to Stony Brook Hospital to offer blankets to patients going through the same situation as my mother was a reminder to me of how delicate our lives really are. I hope that we offered hope to those mothers, fathers, grandparents, aunts, uncles, children, and grandchildren whose families are fighting against the odds," said Mauro. LLS is also thrilled to be chosen as Riverhead Bay Subaru's Hometown Charity for their Share The Love program.
---
Riverhead Bay Subaru and Long Island LLS - Jamie G
The Long Island Chapter of The Leukemia & Lymphoma Society (LLS) was thrilled to work with a company as generous as Subaru. LLS staff met with dealers, Anthony and George from Riverhead Bay Subaru in Riverhead, NY. Unfortunately, Anthony's mom was recently diagnosed with a blood cancer and George's mom passed away from one. For Anthony, we were happy to provide him with resources to share with his family and his mother. Both dealers were proud to work for a company as philanthropic as Subaru especially with a charity that hits so close to him. The LLS staff, Anthony and George met with the staff at Stony Brook University Hospital Cancer Center. One of the staff members, was child life specialist, Lauren, who works with children and their families to help them cope with the challenges of their illness. The Long Island Chapter of LLS has worked closely with Lauren as she recently raised nearly $100,000 for our Man & Woman of the Year campaign, a 10 week fundraising competition benefiting LLS. Since Lauren works with so many children, she was beyond thrilled to receive the care cards and blankets from Riverhead Bay Subaru. She knew what a difference these would make and was happy to provide these children with a special gift. It has been wonderful working with Subaru overall, but especially Riverhead Bay Subaru as they generously chose us as their 5th local charity for their Loves to Care program. We are humbled & honored and hope to continue this partnership with Subaru.
---
Panorama 2016 - Anthony M
Panoramic Living engages individuals, businesses, and communities through programs and events that focus on improving quality of life and increasing lifespan while reducing our reliance on healthcare and its associated expenses. This is accomplished by focusing on the FIVE PANORAMIC FRAMES. They are BACK TO OUR ROOTS. MINDFULNESS. CONNECTION. WALKING WISDOM. PASSIONATE PURPOSE. More information about the Five Frames can be found here: http://www.panoramicliving.us/ At Panorama 16' individuals were able to Learn from three expert speakers about Panoramic Livings PLANTS PURPOSE PEACE platform including world-renowned Dr. Michael Greger, Linda Lombardo CPCC, and Cory Muscara MAPP. Additonally they were able to enjoy a plant-based luncheon by popular East End Executive Chef Noah Schwartz and Relax with local wines in the beautiful rustic setting at Martha Clara Vineyards along with time to connect with others who support healthy living. Riverhead Bay Subaru Sponsored this event and encourages Individuals, business owners, HR directors, healthcare and wellness professionals, caregivers, and community group leaders interested in learning how to live better or inspire others to transform their lives to attend any of Panoramic Livings events, whenever they are available.
---